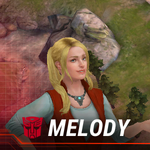 Bio
Melody is a geologist and a geoengineering specialist who stumbled upon proof of Autobot activity on Earth. Not much later, the Autobots have approached Melody, and after initial hesitation, the both parties have agreed to let Melody become a mediator of human-Autobot relations. Melody's job is essential to maintaining a fragile peace and a largely covert Autobot presence on Earth.
Notes
Ad blocker interference detected!
Wikia is a free-to-use site that makes money from advertising. We have a modified experience for viewers using ad blockers

Wikia is not accessible if you've made further modifications. Remove the custom ad blocker rule(s) and the page will load as expected.