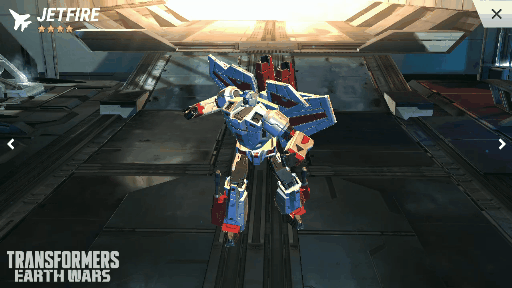 Bio
Jetfire's reckless daring, the result of being the swiftest of all Autobots, created an image of gung ho bravado, but in truth Jetfire believes the key to victory is hard, laboratory-based science, and only by solving the big questions and advancing Autobot tech can they truly defeat their enemy.
His allegiance to the cause is matched only by his devotion to science, but his fellow Autobots distrust him as he was formerly a Decepticon.
Class
| | |
| --- | --- |
| | Air - High damage from medium range. Can perform powerful and precise Air Strikes. |
Ability
See Research Lab.
Name
Description
Remarks
Air Strike
Fire 4 powerful rockets at a target building.
First Launch
Stats
See Cost to Research for increasing maximum level
Level
1*
2*
3*
4*
Power
DPS
Health
Power
DPS
Health
Power
DPS
Health
Power
DPS
Health
1
2
3
4
5
6
7
63
32.1
258
8
9
10
11
84
43.1
346
12
13
14
15
16
17
18
19
20
110
56.3
452
21
-
-
-
22
-
-
-
23
-
-
-
24
-
-
-
25
-
-
-
26
-
-
-
27
-
-
-
28
-
-
-
29
-
-
-
30
-
-
-
31
-
-
-
-
-
-
32
-
-
-
-
-
-
33
-
-
-
-
-
-
34
-
-
-
-
-
-
35
-
-
-
-
-
-
36
-
-
-
-
-
-
37
-
-
-
-
-
-
38
-
-
-
-
-
-
39
-
-
-
-
-
-
40
-
-
-
-
-
-
41
-
-
-
-
-
-
-
-
-
42
-
-
-
-
-
-
-
-
-
43
-
-
-
-
-
-
-
-
-
44
-
-
-
-
-
-
-
-
-
45
-
-
-
-
-
-
-
-
-
46
-
-
-
-
-
-
-
-
-
47
-
-
-
-
-
-
-
-
-
48
-
-
-
-
-
-
-
-
49
-
-
-
-
-
-
-
-
-
50
-
-
-
-
-
-
-
-
-