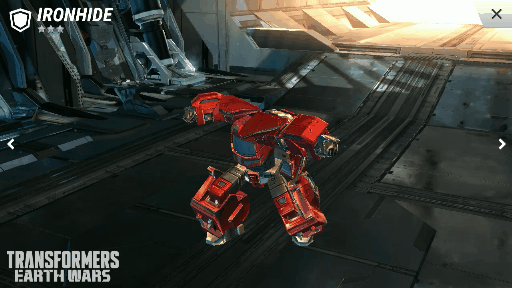 Bio
Tough, ornery and uncompromising, Ironhide is an old school warrior - low on words, high on knocking heads together.
As Optimus Prime's head of security, he takes the attitude that everyone is suspect until proven otherwise, but his gruff exterior hides a softer soul, his concern for life, be it mechanical or organic or somewhere in between, second only to that of Optimus Prime himself.
Class
| | |
| --- | --- |
| | Warrior - Armored front line fighter. Rush into enemy defenses to open up the attack and protect other bots. |
Ability
See Research Lab.
Name
Description
Remarks
Rush In
Rush in combat smashing walls along the way.
Change in 23 June 2016
Stats
See Cost to Research for increasing maximum level
Level
1*
2*
3*
4*
Power
DPS
Health
Power
DPS
Health
Power
DPS
Health
Power
DPS
Health
1
2
3
4
5
6
7
8
9
10
11
12
13
14
15
16
17
18
19
20
113
26.1
1,580
21
-
-
-
22
-
-
-
23
-
-
-
24
-
-
-
25
-
-
-
26
-
-
-
27
-
-
-
28
-
-
-
29
-
-
-
48.3
3,160
30
-
-
-
31
-
-
-
-
-
-
32
-
-
-
-
-
-
33
-
-
-
-
-
-
34
-
-
-
-
-
-
35
-
-
-
-
-
-
36
-
-
-
-
-
-
37
-
-
-
-
-
-
38
-
-
-
-
-
-
39
-
-
-
-
-
-
40
-
-
-
-
-
-
41
-
-
-
-
-
-
-
-
-
42
-
-
-
-
-
-
-
-
-
43
-
-
-
-
-
-
-
-
-
44
-
-
-
-
-
-
-
-
-
45
-
-
-
-
-
-
-
-
-
46
-
-
-
-
-
-
-
-
-
47
-
-
-
-
-
-
-
-
-
48
-
-
-
-
-
-
-
-
49
-
-
-
-
-
-
-
-
-
50
-
-
-
-
-
-
-
-
-