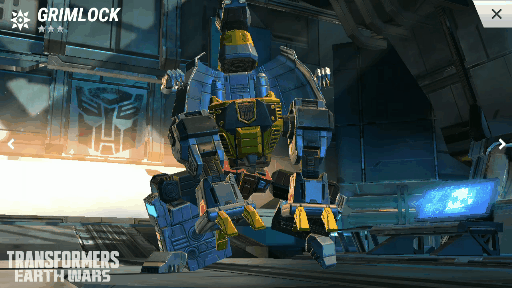 Short Bio
The most feared and powerful of the Dinobots.
Bio
A rampaging force of nature, Grimlock is the most feared and powerful of the Dinobots, as irascible and savage as the T-Rex his beast mode is modeled on.
Combat is in Grimlock's spark, and periods in between battles are simply periods of great frustration and seething resentment.
Any display of weakness is worthy only of contempt in Grimlock's optics, but he's not as dumb as he likes people to think, and his courage on the battlefield is the stuff of legend.
Class
Special - Bots in the Special class are highly individual fighters with special capabilities. Check their stats and use them in battle to uncover their secrets!.
Ability
Sword Rush - Rush into combat smashing walls along the way.
Stats
See Cost to Research for increasing maximum level
Level
Power
DPS
Health
Power
DPS
Health
Power
DPS
Health
Power
DPS
Health
1
103
2
3
109
4
113
5
116
6
119
7
123
8
9
10
135
11
166
12
171
13
176
14
181
50.2
1,990
15
187
16
192
17
198
18
204
56.4
2,240
19
210
58.1
2,310
20
217
59.9
2,380
21
22
23
24
25
26
27
28
29
30
31
32
33
34
35
36
37
38
39
40
41
42
43
44
207.2
8,240
45
46
47
48
49
50
51
52
53
54
55
56
57
58
59
60